How to Start a Blog and Make Money Blogging.
The ultimate guide to starting your own blog and making money online!
Learn how to start a blog online and how to create a blog in just 30 minutes. It really is a lot easier than you think, and I will take you through all the steps in this thorough guide. I have added pictures where necessary, to make it even easier.
Start your journey by Bookmarking this page!
You might not have time to finish the setup today, or you need some time to think about a proper domain name for your blog, so please bookmark this àge immediately. This way, you can easily find the page again, when you are completely ready.
In order to start a blog we will need to run through a few things:
1. Decide on your Blogging Niche
2. Choose a blogging platform. I recommend WordPress.
3. Pick a Domain Name
4. Set up Web Hosting. I recommend BlueHost. The are the cheapest, but also the most reliable.
5. Install WordPress on your hosting account
In this tutorial we will be building a blog with WordPress.
Step 1: Choose The Blogging Platform. Why WordPress is Number 1.
Plainly and simply I will never recommend someone who wants to start a blog to use a free platform such as Blogger. While there is zero barrier to entry and no up front financial cost to you, there are lots of concerns which could cost you more in the long run. If you can, always self-host your blog.
When something is free, YOU are the product –Because of this fact a platform such as Blogger or WordPress.com can shut you down at any point, with no warning and no way to recover your content. A minor indiscretion such as using an image without the right consent can have your site deleted and no way to challenge it.
It looks unprofessional –Many of the free blogging platforms do not let you have a custom domain which gives across an unprofessional appearance to potential customers and subscribers. You are also very limited with the level of customisation you can do to your blog so your site looks just like everyone else's.
It's hard to make money from your blog when you don't own the domain or hosting. Most free blogging platforms will not allow you to place any adds or affiliate links on your site. So how can you make any money from the traffic that you have being working hard to build? Answer: No chance.
Paying for web hosting for your blog is not very expensive and can cost as little as $5 per month for very basic hosting packages. Having a reliable web host will mean that your site is backed up regularly and you have rights to recover your website for any reason.
Now that you know that the free blogging platforms are not a great option for your blog you need to decide upon the type of platform you will use.
There are lots of different open source platforms which most web hosting companies will support when you are creating your blog. The main blogging platforms are:
WordPress – is the most popular and customizable content management system (CMS) in the world
Ghost – is a new blogging platform that is creating a lot of noise in the blogosphere
Drupal – is quite popular but is difficult for novices
Joomla – another fairly popular CMS but there is a very steep learning curve
Over the past few years I have worked with all four of these blogging platforms but always recommend WordPress to blogging novices due to the great community support and ease of use. Out of the box WordPress ticks most of the boxes you will need for your new blog and if it doesn't there is probably a plugin out there for you.
The main advantages of using WordPress.
It's INSANELY simple to set up. You will see just how easy later in this How To Start A Blog guide. To give you some idea to how simple it is, my 6 year old daughter set up her own blog with ZERO help from her expert dad (that's me by the way).
So easy to use. Building your blog, adding content, adding images, amending content and much much more can be done with absolute ease in WordPress. The platform has an extremely intuitive interface so adding new pages, blog posts, etc. can be done very quickly.
Blogging is at the heart of WordPress. WordPress was designed and built for bloggers as a blogging platform so all the blogging capabilities and functionality are already built-in and waiting for you.  If you want to set up an email subscriptions to your blog, then this can be added via a plugin in just seconds. That's the great thing about WordPress, you can literally set your blog up and publish your first blog in a matter of minutes.
Total control. With WordPress, you have total control over your site. There's no waiting for a web designer or developer to amend your content. You can just login to your dashboard and make changes yourself.
WordPress is secure. As long as you keep your WordPress platform and plugins updated with the latest versions, and you adhere to secure password best practices, then WordPress is a damn secure place to have your site.  WordPress update their software all the time to make sure that it continues to be secure and keeping hackers at arms length.
STEP 2: Buy Hosting and Choose a Domain Name.
In order to set up a blog you will need a domain name and web hosting. If you are new to starting a blog then I recommend that you register your domain & hosting with the same company to keep things simple.
Domain Name:
This is your website address i.e. the domain name for this website is Topsocialmedia.net. Try to choose something short and catchy for your blog that will be easily remembered. I recommend that you stick to .com domain names if at all possible as many of the new domain names aren't as easy to recognize. .net and .org domains are also acceptable and are trusted by most visitors.
Web Hosting:
This is where your blog is stored online. There are lots of different hosting companies out there which offer different types of hosting for a variety of different types of websites. The WordPress platform is free of charge but you will have to pay around $3-4 per month for your Web Hosting and Domain registration fees.
Over the past few years, I've tried dozens of different WordPress Hosting providers, so I suppose you can call me an expert at choosing the best hosting for my sites. You can read my comparison of different WordPress Hosting accounts here.
Once you have decided on which web hosting company to work with you will need to install WordPress on your account. I have created a guide on how to install WordPress on a variety of different web hosts.
The Best and Cheapest Place To Buy Hosting and Your Domain Name.
I highly recommend using BlueHost.com to set up a blog because of their simple installation process, great customer service & reliability.
Additionally if you sign up to BlueHost today you will get a great discount exclusive to Topsocialmedia.net visitors as well as a FREE domain name worth up to $15 for your new blog too!!!
They also offer an excellent money back guarantee with no contract if you don't like their service.
When you sign up for hosting with Blue Host there are some additional services they offer. Domain Privacy Protection means that people won't be able to see the name, address and contact details of who owns the blog, if you're happy for people to know who owns the blog then you can deselect this and save yourself about $12 per year.
You also do not need Sitelock or the search engine Jumpstart for running your blog.
STEP 3: Starting Your Blog On BlueHost.
UPDATE: BLUEHOST currently has a FLASH SALE of $2.95 per month for high quality hosting!
First thing you need to do is to take advantage of this Latest deal on Bluehost where you can get hosting for just $2.95 per month PLUS a free domain name. (36 month sign up)
Jump on this deal now before its gone.
Because BlueHost is a high quality web host, normally you would pay $7.99 per month for their basic hosting package.
Here's what you get for just $2.95 per month.
A FREE domain name
Fast, high quality & reliable web hosting
Free Site Builder
One-click WordPress Install and 24/7 support.
Click on the "Get Started" button to start the process of creating your very own blog.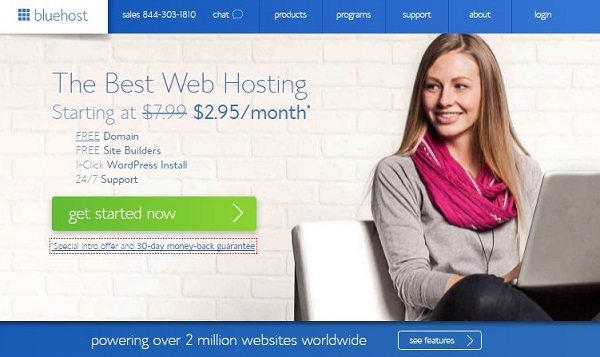 2. Next you'll need to select the right plan for you and your blog. For newbie blog and website owners, you only really need the basics, so I would recommend the "Basic Plan". The current promotion lets you have a basic package from as little as $2.99 or $3.45 per month. If you don't see this low price, the try opening my page https://topsocialmedia.net/how-to-start-and-create-a-blog/  in a new browser window, or with a different browser. Then click through to Bluehost again from my page, and you should get the discounted rate.
The "Choose a Package" page looks like this:
3. Once you've selected your plan you'll then see this page…
If you already have a domain name that you want to use, then just enter it in the right hand box and then click next to assign your domain name to your new hosting.
Let's say you don't have a domain name and you want to claim your free domain.
Type in the domain name that you'd like in the left hand box where it says "New Domain" and then click next. If it's available then you'll be able to proceed.
If it's already registered then BlueHost will cleverly show you some similar domain names that you might want to consider. Or you can just type out another domain name idea to see if it's available.
4. So you have found the domain name of your dreams and you're now ready to set it up with your new hosting. The next screen you'll see is the domain registration page where you will have to put in all the boring details such as account information, but this takes no time at all.
5. Once you've filled out the domain registration form, its then time to select your hosting plan. You'll find this section directly below the account information section.
I normally select the basic plan at 36 months to get a better deal on the hosting, but 12 or 24 months is fine also.
Ignore all the other tick boxes below the package options as this is stuff that isn't needed and will only cost you extra each month.
Then scroll down and fill out the billing information, click submit and you are done!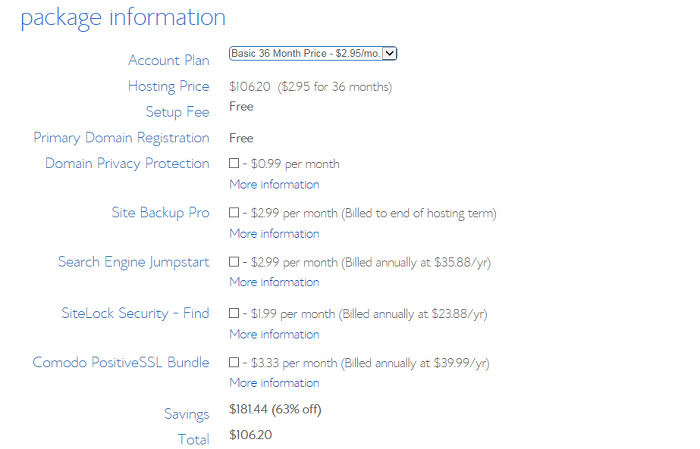 6. You should then receive an email from BlueHost with all your account and login details. Check your spam folder as it can sometimes end up in there if your email client is a little too sensitive.
Keep your login and welcome information safe as you may need it for future reference.
7. So you've signed up and paid for your BlueHost hosting. Great! You are nearly there.
The next thing you need to do is to login to your BlueHost account with the details they sent you in the welcome email.
Click on the hosting tab then continue by filling out your domain name (the name that is assigned to the account) and password. All of these details will be in the email Bluehost sent you.
8. If all went well in the last stage, you should be in and ready to create an awesome blog!
Below is a screenshot of the BlueHost control panel. Here you can install WordPress on your domain, using a really easy 1 click install solution.
Head over to the "Website" section and click on "Install WordPress" to quickly set up WordPress on your domain.
You will then be taken to the Mojo Marketplace and shown a WordPress install page with a big green "Install" button. Click on it to start the magic!
9. The next stage is to select the domain name that you want to install WordPress on. Click on the little arrow in the domain name field and select the domain name you just bought with BlueHost hosting or the one you already owned. It should be visible in the drop down.
9 times out of 10 I will always install WordPress to the root domain, rather than creating the install within a folder of the domain (directory).
Leave the directory window empty. Then click on "Check Domain".
Then just underneath this section, you'll see a check box which will allow you to see some more advanced options.
Here you can input the title of your site, your username (do not use "admin" as this makes it easier for hackers to hack your site), and password (make your password nice and complicated with lots of upper and lower case letters and numbers, minimum of 13 characters long).
Remember that you can change these details later, except for the username.
Make a note of your username and password, maybe in a word doc on your computer or written down and stored in a safe place. Never click "Remember password" within your browser, as this can also make your site vulnerable to attackers.
When you've completed all the fields in this section, just check the box to agree to the terms and then click "Install Now"
WordPress is then automatically installed on your domain in a matter of seconds. You'll get an email from Mojo with all your login login credentials.
Things just got a whole lot easier, right?
STEP 4: Choosing a WordPress Theme.
Now that your WordPress blog is built you need to add a WordPress theme that has all of the functions that you need, a WordPress theme is a pre-designed template which you can customize. Right now you have a choice to make you can either go with a free or a paid one. There are of course advantages and disadvantages to both so it comes down to what you want from your blog.
Some of my favourite places to find themes for blogs are:
Themeforest
StudioPress
Mythemeshop
WordPress Library
When you are choosing your theme you want to make sure it fits with your goals. For example, if you are writing a professional blog then you will want a formal clean design where as a music blog you will have more license to show off your creativity.
These days you should now been using a responsive design. This means that the layout of your blog will adapt to different mobile and tablet screen sizes – which is highly important for usability now that a lot of people are using mobile phones to browse the web.
How to Install your new Blog Theme.
Your new theme will come in a .zip file format if you have purchased one. You have the options to upload it straight into your WordPress Dashboard by logging into your WordPress blog (http://domain.com/wp-admin) and then going to: APPEARANCE > THEMES > INSTALL THEMES > UPLOAD THEMES and then uploading your theme .zip file just like you would adding an attachment on to an email.
The correct page looks like this:
If you've chosen a free theme through your WordPress dashboard you just click INSTALL on the preview screen. You can always switch back to your old theme if you don't like the look of the new one.
You'll now have a pretty blank looking theme set up and waiting for some love. At this stage you want to fill out all the basics like your About page, logos, social media links and other content.
Now you are ready to begin to promote your new blog and also learn how to make money with your blog.
Congratulations, you have now taken the first steps to starting your new blog!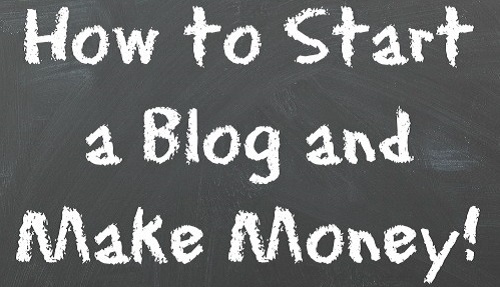 -How to Create a Blog in 2016.-